Normandie Tiger Jagd
P-51D Mustang attack on King Tiger tank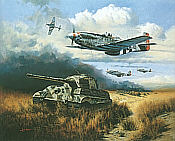 Description
Like many aviation art lovers Heinz Krebs is particularly attracted to the classical beauty of America's premier fighter - the incomparable P-51 "Mustang". Unlike the majority of aviation art works which show the P-51 in air-to-air combat, Heinz enjoys depicting the Mustang at low altitude, in close proximity to the ground, further highlighting the drama and action of the scenario. Heinz displays the same degree of artistic mastery in depicting the Third Reich's most feared battle tank, the lethal "Königstiger" ("King Tiger") - the terror of the allied land forces, in his painting entitled "Normandy Tiger Hunt". The tank which Heinz Krebs has depicted belonged to the 503rd Heavy Tank Battalion, one of only two German units equipped with King Tigers who where stationed in Normandy at the time of the allied invasion of Europe in June 1944. On the American side, it was mainly the Ninth U.S. Army Air Force who were tasked with flying close support missions for the allied drive into Continental Europe and towards Germany but units of the "Mighty Eighth" also attacked ground targets during the summer and fall of 1944. In "Normandy Tiger Hunt" a flight of P-51s of the 339th FG, under the command of their leading ace, Francis R. Gerard has started a series of strafing attacks on King Tigers.
Printed on heavy stock acid-free paper and issued with a certificate of authenticity.
Limited Edition
1250 signed and numbered by the Artist and countersigned by four P-51 8th AF combat veterans, and the three members of the German 'King Tiger' tank corps.
Signatories

Major General Francis R. Gerard
Leading ace of the 339th FG. 8 victories. 91 missions. Military decorations include: D.S.M., Silver Star, D.S.A., D.FC., Air Medal with 11 OLCs, Presidential Unit Citation, and USAF Outstanding Unit Award.

Colonel Rex L. Poutre
339th FG. 3 confirmed victories in a single engagement. Decorations include: Legion of Merit, D.F.C. with 2 OLCs, Air Medal with 47 OLCs, Bronze Star with 1 OLC, Army Commendation Medal, Croix de Guerre avec Palm.

1st Lt. Robert V. Blizzard
339th FG. 56 missions. Six aircraft destroyed on the ground, one Me262 probable (air). Military decorations include: European Theatre Medal, 3 Battle Stars, Air Medal with 2 Silver and 2 Bronze Oak Leaf Clusters.

Colonel Lawrence J. Powell, Jr.
339th FG. Captured in Holland after chrashlanding his P-51 in Germany two days earlier following a dogfight with German fighters. Five enemy aircraft destroyed. Decorations include: D.F.C., Air Medal with 15 clusters.

Sergeant Dr. Franz-Wilhelm Lochmann
Served as tank radio operator and machine gunner in l./503rd Heavy Tank Btn. until the end of WWII (platoon leader tank and company commander tank). 95 tank battles. Decorations include: EK I and II, Tank Battle Badge.

Lt.Col. Alfred Rubbel
Combat experience from 1941 through 1945 in the northern and center sections of the Eastern Front. Decorations include: EK I and II, Tank Battle Badge (III). 79 combat operations, 57 enemy tanks destroyed. Wounded in combat.

Colonel Günter Piepgras
Heavy Tank Btn. 503 at the Eastern Front. Company leader during the tank battles in Russia, Normandy, Tunisia, Hungary, and Czechoslovakia. Decorations include: EK I and 11, Wounded in Combat Award in Gold, and Tank Battle Badge.